Recent studies examined the importance of employee benefits since the pandemic. Did you know?
62% of employees think employee benefits are more important now because of the pandemic
60% of employees are interested in their employer providing a wider mix of non-medical benefits that they can choose to purchase on their own
Since the pandemic, employees want more from their benefits to support their safety and well-being.
What do employees consider must-have benefits?
85% Medical
70% Dental
67% Vision
61% Life
51% Disability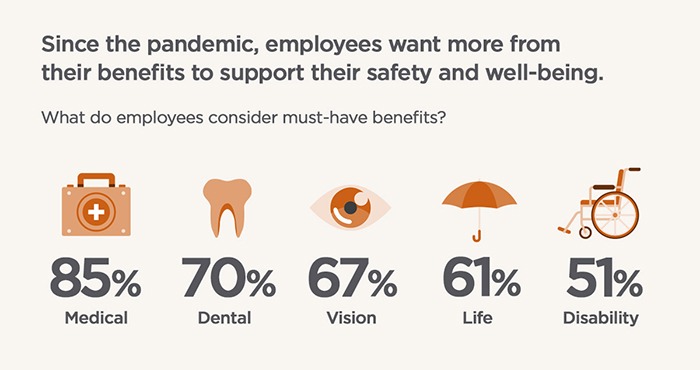 If you are looking to add benefits to your group medical plan we can help. Our team can assist with benefits implementation and ongoing support for your group ancillary, voluntary and worksite benefits. Plus, provide guidance for specific federal and state regulations and plans.
 
Contact us today to learn more about how you can expand your benefits package beyond group medical.
Source: MetLife's 19th Annual U.S. Employee Benefit Trends Study 2021